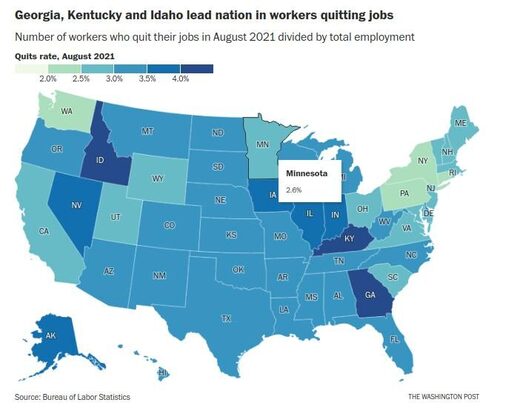 Kentucky, Idaho, South Dakota and Iowa reported the highest increases in the rates of workers who quit their jobs in August, according to a new glimpse of quit rates in the labor market released Friday.

Comment: It's notable that this is the first time data like this has been collated and presented in this way, it also means we have no exact comparison for previous years.


T
he largest increase in the number of quitters happened in Georgia, with
35,000 more people leaving their jobs
. Overall, the states with the highest rates of workers quitting their jobs were Georgia,
Kentucky and Idaho
.
The report from the Bureau of Labor Statistics builds out a portrait of August's labor market,
with historic levels of people leaving jobs and a near-record number of job openings
showing the leverage workers have in the new economy. It offers the first detailed insight into the state-by-state geography of this year's Great Resignation.