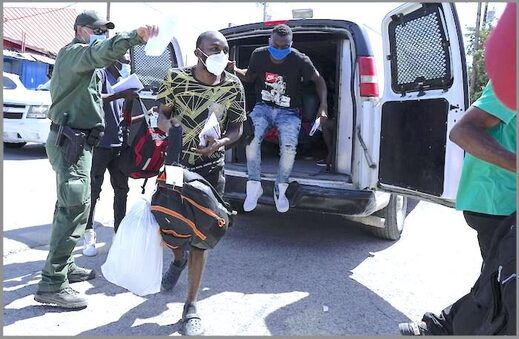 Three hours after being freed from a
giant migrant camp
under an international bridge, Mackenson Veillard stood outside a gas station and took stock of his sudden good fortune as he and his pregnant wife waited for a Greyhound bus to take them to a cousin in San Antonio.
The couple camped with thousands for a week under the bridge in Del Rio, Texas, sleeping on concrete and getting by on bread and bottled water. "I felt so stressed," Veillard, 25, said this week. "But now, I feel better. It's like I'm starting a new life."
Many Haitian migrants in Del Rio are being released in the United States, according to two U.S. officials, undercutting the Biden administration's public statements that the thousands in the camp faced immediate expulsion to Haiti.
Haitians have been freed on a "very, very large scale" in recent days,
one official said Tuesday. The official, who was not authorized to discuss the matter and thus spoke on condition of anonymity,
put the figure in the thousands.