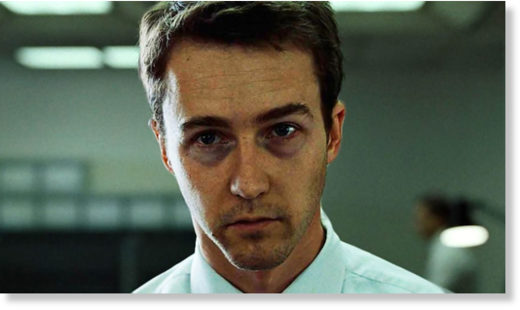 David Fincher's cult-classic '
Fight Club
' has seen an official online release in China on the Tencent Video streaming platform, but it's not exactly the movie westerners might remember. Most imported films in China go through a censorship filter, making sure that the films are in line with the Communist party's ideals and portray law enforcement as the ultimate force for good, always triumphing over the villains. If that's not the way the original story goes - it gets changed, and the censors don't seem to really care about preserving the plot or maintaining coherence of the films they edit, and the changes are often drastic.
The latest film to get adapted is the 1999 classic '
Fight Club
.' The original ending saw the main character (spoilers, if you haven't seen the film), who suffers from a split identity disorder, shoot himself in the face to kill his alter ego, Tyler Durden, and then proceed to watch a bunch of corporate buildings explode, sending an anarchistic message about the dangers and trappings of a society obsessed with consumerism.