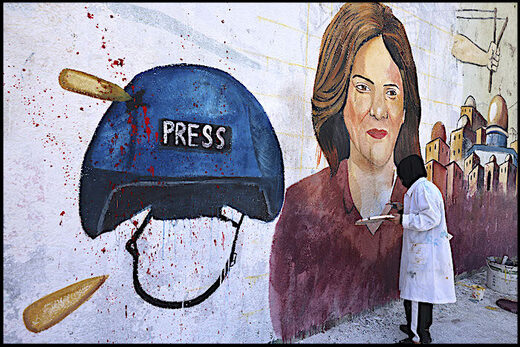 Shireen Abu Akleh was "deliberately and repeatedly targeted" by an Israeli military sniper while reporting on an IDF raid last May, at the entrance to Jenin refugee camp -
by a sniper taking "precise and careful aim."
This is among the previously unreleased findings of a joint investigation by
U
K-based Forensic Architecture and the Monitoring and Documentation Department of the Palestinian human rights group Al Haq, presented this morning in front of the
International Criminal Court
in the Dutch capital, The Hague.
These findings, based, in part, on
previously unseen footage
recorded by an Al Jazeera camera person on the scene, were disclosed to a small group of reporters following the submission of a complaint to the ICC by lawyers for the family of Abu Akleh and two Palestinian journalists standing beside her that day.
The Israeli sniper assault involved "three distinct rounds of shooting, totaling sixteen individual shots at Shireen, her colleagues and a civilian trying to provide medical aid,"
the Forensic Architecture-Al Haq Investigate Unit (FAI) revealed.
"All shots were fired above the shoulders and intended to kill."