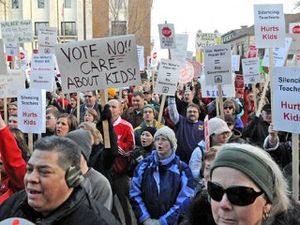 Governor's Proposal Would Strip Teachers of Their Union Bargaining Rights
Thousands of students across Wisconsin have the day off, again, as teachers
continue to protest
Gov. Scott Walker's proposal to limit their union bargaining rights.
Roughly 30,000 protestors gathered in Madison on Wednesday and thousands continue to pour into the state Capitol today. At least 15 school districts across the state canceled class Thursday as teachers threatened to stay home or called in sick.
"We've seen student walk outs, faculty teach-ins, citizens setting up camp overnight in the rotunda. Since Monday, spontaneous rallies have popped up in every corner of the state, denouncing Walker's extremist agenda," the president of the American Federation of Teachers in Wisconsin, Bryan Kennedy explained.