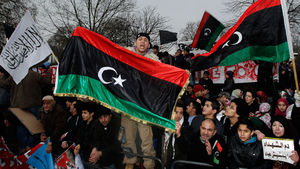 Libyan protesters have raided the country's state TV headquarters and torched the central government building as well as police stations in the capital Tripoli.
"The headquarters of Al-Jamahiriya Two television and Al-Shababia radio have been sacked," AFP quoted a witness as saying on Monday.
Other witnesses are quoted to have said that the protesters set the People's Committee offices and police stations ablaze.
In Benghazi, Libya, thousands of people have taken to the streets since last week, calling for the ouster of the 68-year-old Libyan ruler Muammar Gaddafi, who has been in office since September 1969.
The Libyan regime has brutally cracked down on protesters, and has opened fire with machine guns, as well as sniper fire, killing at least 233 people according to the Human Rights Watch.