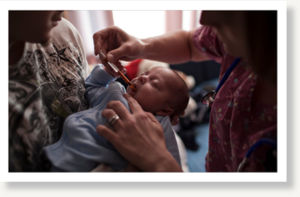 Bangor, Me. - The mother got the call in the middle of the night: her 3-day-old baby was going through opiate withdrawal in a hospital here and had to start taking methadone, a drug best known for treating heroin addiction, to ease his suffering.
The mother had abused prescription painkillers like OxyContin for the first 12 weeks of her pregnancy, buying them on the street in rural northern Maine, and then tried to quit cold turkey - a dangerous course, doctors say, that could have ended in miscarriage. The baby had seizures in utero as a result, and his mother, Tonya, turned to
methadone
treatment, with daily doses to keep her cravings and withdrawal symptoms at bay.
As prescription drug abuse ravages communities across the country, doctors are confronting an emerging challenge: newborns dependent on painkillers. While methadone may have saved Tonya's pregnancy, her son, Matthew, needed to be painstakingly weaned from it.
Infants like him may cry excessively and have stiff limbs, tremors, diarrhea and other problems that make their first days of life excruciating. Many have to stay in the hospital for weeks while they are weaned off the drugs, taxing neonatal units and driving the cost of their medical care into the tens of thousands of dollars.
Like the cocaine-exposed babies of the 1980s, those born dependent on prescription opiates - narcotics that contain opium or its derivatives - are entering a world in which little is known about the long-term effects on their development. Few doctors are even willing to treat pregnant opiate addicts, and there is no universally accepted standard of care for their babies, partly because of the difficulty of conducting research on pregnant women and newborns.