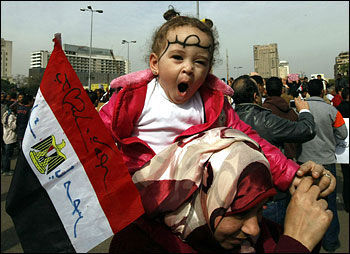 Cairo - The Egyptian army called Wednesday for an end to the massive demonstrations that have rocked this city and shaken President Hosni Mubarak's decades-old grip on power, but the sea of protesters showed no sign of dispersing.
With Mubarak promising to step down after elections this fall, military spokesman Ismail Etman said in a state television address that the protesters should focus on "returning normal life to Egypt."
"Your message has arrived, your demands became known," Etman said Wednesday morning. The television station then broadcast a printed message that read: "The armed forces call on the protesters to go home for the sake of bringing back stability."
But large crowds continued to gather in downtown's vast Tahrir Square, and--despite a surge of support for Mubarak at several counter-demonstrations--it seemed unlikely that the army's message would prompt the anti-Mubarak masses to disband.