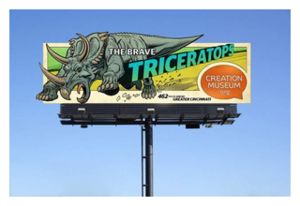 Petersburg - Dinosaurs are being spotted on interstates all over the country, and the Creation Museum is to blame.
The comic-book-style dinosaurs are located on more than 100 billboards as far away as Dallas, Orlando., Fla., and Sacramento, Calif.
Ken Ham, co-founder of Answers in Genesis, the apologetics ministry that developed the Creation Museum, said the locations of the billboards demonstrate the broad appeal of the attraction.
"Most of the people who come to the Creation Museum come from outside of Ohio, Indiana and Kentucky," Ham said. "We've had a number of visitors from California and a couple of Christian schools bused kids up from Texas, so putting billboards in those places is not a reach."
While most scientists maintain dinosaurs have been extinct for millions of years, Answers in Genesis teaches that the world is only a few thousand years old and dinosaurs roamed the Earth until very recently.
Dinosaurs play a prominent role in Creation Museum exhibits, which include a Dinosaur Den with fossilized eggs and a triceratops skeleton casting.
The museum has attracted 1.6 million visitors since it opened in May 2007 and averages more than 800 visitors each day.
Previous advertising campaigns have included the use of print and television outlets, but Ham said the billboard campaign is a more cost-effective way to cross-promote and reach a broad audience.
"We don't have the marketing dollars that the big commercial operations have," Ham said. "One of the things we want to do is get people to go to the Creation Museum website and get connected to our other sites as well."