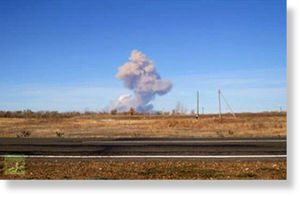 More than 4,000 tons of shells exploded near a military testing ground some 40 kilometers from the city of Orenburg in Central Russia, prompting the mass evacuation of two nearby towns.
Those 4,000 tons included 1,379 tons of 100mm shells, 400 tons of air bombs and 2,300 tons of 280mm reactive shells, the head of the military investigative committee announced.
Witnesses recorded video of a massive plume of smoke rising into the air shortly after the explosions. Local residents said that the blasts were powerful enough to rattle windows dozens of kilometers away from the epicenter.
The press secretary for the regional government said that three residential buildings in the town of Pervomaisky were damaged in the incident, and that the force of the explosion blew out the windows of many local houses.
Local emergency services confirmed that the blast wave from the explosions also blew out the windows of schools, kindergartens and a hospital.
The explosions sparked a brushfire in 15-20 hectares of nearby dead grass. Authorities said that the fire does not threaten populated areas.