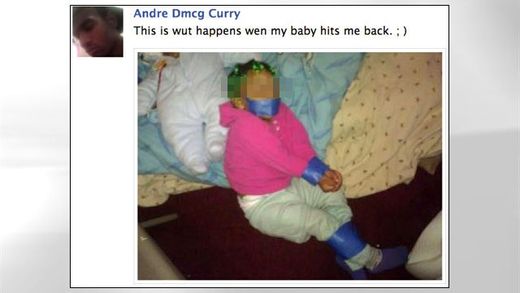 A Chicago judge ruled today that a dad convicted of aggravated battery for binding his 18-month old daughter with tape and taping her mouth shut will not have to go to prison, but serve probation instead.
Andre Curry, 22, was ordered today to serve 18 months probation, undergo parenting classes and submit to periodic drug tests.
Curry was arrested in December 2011 after posting a photo of the little girl on Facebook with the caption: "This is wut happens wen my baby hits me back ;)."
He was convicted in November of aggravated domestic battery and aggravated battery, and faced up to seven years in prison.
Curry has no prior criminal record and his lawyer convinced the judge to reconsider the felony conviction, dropping the charges to a misdemeanor.
Curry did not testify in his own defense, but his lawyer argued that he was just fooling around and the girl was never in danger.
"To use a child ... as a toy or a prop in an odd attempt at humor is conduct of an insulting or provoking nature," Cook County Circuit Judge Lawrence Flood said in November when Curry was found guilty.