In a bizarre turn of events, Jeff Hall, a regional leader of the National Socialist Movement, was shot dead last week by his 10-year-old son, according to
The New York Times
.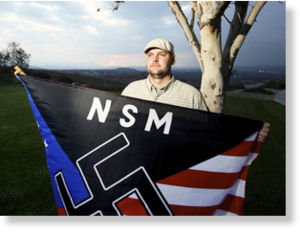 The boy allegedly shot his father using a handgun as he lay on the couch at their home in Riverside, California. Charged as a juvenile with murder, the boy may plead insanity, his public defender said.
The police say the killing was intentional but have no motive as yet.
Hall exposed his son to NSM's activities as he grew older, just hours before the murder giving him a leather belt with a silver insignia of the Nazi SS.