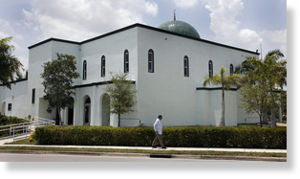 The imam of a Florida mosque and his two sons, one also a Muslim spiritual leader, were arrested on Saturday on charges of financing and supporting the Pakistani Taliban, U.S. officials said.
The three Pakistan-born U.S. citizens were among six charged in a U.S. indictment that accused them of "supporting acts of murder, kidnapping and maiming in Pakistan and elsewhere" carried out by the Pakistani Taliban, which Washington calls a terrorist organization.
The indictment, announced by U.S. Attorney for the Southern District of Florida Wifredo Ferrer and the FBI, charged the six with creating a network that transferred funds from the United States to Pakistani Taliban supporters and fighters in Pakistan, including for the purpose of buying arms.
If convicted, each faces up to 15 years in prison for each count of the indictment.
The charges were revealed at a time when U.S. relations with Pakistan are strained over the U.S. raid that killed al Qaeda leader Osama bin Laden in Pakistan.