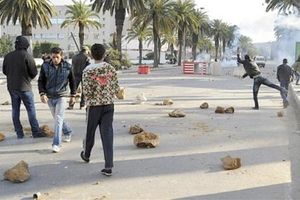 Hundreds of Egyptians have gathered outside the Tunisian Embassy in Cairo to show their solidarity with Tunisians and have called for protests similar to those in Tunisia.
Egyptian activists opposed to President Hosni Mubarak's three-decade regime also looked to Friday's events in Tunisia with hope.
Activists are out on the streets to celebrate the overthrow of Tunisian President Zine el-Abidine Ben Ali, who has fled the country. Anti-government demonstrations drove Ben Ali from power on Friday after 23 years in office.
The celebrating Egyptians congratulated the Tunisian people over their victory against their government, AFP reported.
"Ben Ali, tell Mubarak a plane is waiting for him too!" and "We are next, we are next, listen to the Tunisians, it's your turn Egyptians!" chanted the demonstrators, surrounded by heavy security. Reports say that Egyptian police have fanned out across the capital.