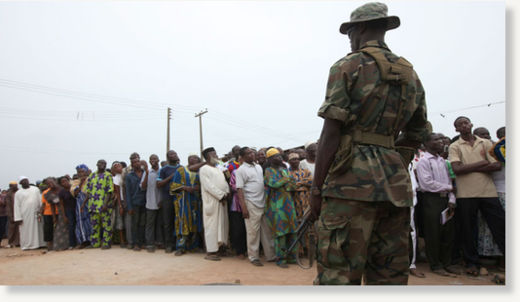 Nigerians chose their president in an election Saturday many hoped would show Africa's most populous nation could hold a credible vote without the violence and rigging that marred previous ones, though children cast ballots and party officials helped others press their inked fingers to paper.
Despite widespread security concerns after bombs hit a vote-counting centre and a polling station during last weekend's legislative elections, voting in the oil-rich country was largely peaceful Saturday though a police officer was fatally shot in the volatile northeast.
"In recent decades, Nigeria had come to be known for flawed elections. People outside and Nigerians themselves had come to believe that elections could not reflect the will of the people. But, today people showed that they can change that," former Botswana President Festus Mogae, who led the Commonwealth Observer Group, said.
"We seem to be witnessing a giant of Africa reforming itself and putting its house in order," Mogae said.
The chief European Union observer also said most stations opened on time, and that observers only saw a few cases of missing voting materials. But in the remote villages of northern Nigeria where opposition candidates are drawing their support, some of the voters were smooth-cheeked boys not even 5 feet (1.5 metres) tall, wearing clothes two sizes too big for them.