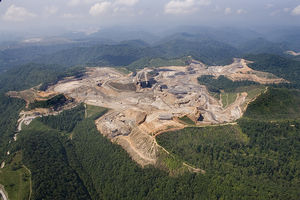 Charleston, West Virginia -- Federal environmental regulators are looking closely at a new scientific study that found Appalachian residents who live near mountaintop removal mine sites face an increased risk of birth defects.
U.S. Environmental Protection Agency officials met last week with one of the study's authors, and EPA is concerned about growing evidence about mountaintop removal's potential adverse effects on public health in the coalfields.
Nancy Stoner, acting assistant EPA administrator for water, testified to a congressional committee last week about her agency's concerns regarding the findings of a series of West Virginia University studies.
"In 2010, an independent, peer-reviewed study by two university professors found that communities near degraded streams have higher rate of respiratory, digestive, urinary and breast cancer," Stoner told a subcommittee of the House Committee on Government and Regulatory Reform.