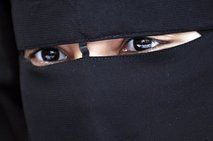 Paris - France, home to Europe's biggest Muslim population, banned the wearing of full-face veils in public Monday, despite threats of protest from a group that already feels stigmatised.
The draconian new law, the first of its kind to be enforced in Europe, was immediately broken by a young woman from the southern city of Avignon, who has become the media symbol of France's tiny community of niqab wearers.
"I had been invited to take part in a television programme which I am going for and I find that today is April 11, the first day of the application of the ban," Kenza Drider, 32, told reporters before boarding a train for Paris.