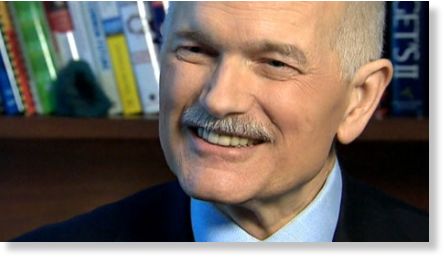 Jack Layton was remembered Monday as a regular guy and terrific political leader that everyone liked, as friends and political foes alike paid tribute to the New Democrat leader hours after learning that he had succumbed to cancer.
On the quiet side street where Layton lived with his politician wife Olivia Chow, friends and area residents stopped by, some bearing flowers.
"He was someone you could have a beer with," said neighbourhood resident Ted Hawkins, who laid a single red rose on the doorstep "as a little bit of a tribute" to the longtime political presence.
"He was a very down-to-earth person."
Sarah Hastie, a longtime area resident who also delivered a flower to his home, said she had hoped Layton would somehow beat the disease that forced him to step aside last month from his party-leader duties.
"Jack was such a fighter, and I was just always keeping my fingers crossed that this might be a battle that he would win," Hastie said.
"It's a terrible thing for his family but it's an even greater loss for the country."
A family friend emerged briefly from the home to request privacy.
Layton, 61, died early Monday barely three months after an election campaign in which he gamely led his New Democrats to Official Opposition status in the Commons.