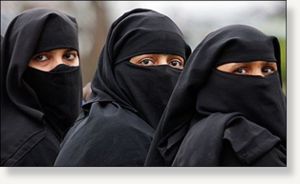 French authorities will begin enforcing a new ban on wearing full Islamic veils in public in April, officials said Thursday. Women wearing coverings that hide the face will be asked to remove them or pay a fine.
France will start enforcing a ban next month on full Islamic face veils, officials said on Thursday, meaning any veiled woman can be summoned to a police station and asked to remove her face-covering or pay a fine.
Officials say the law is mainly symbolic and police will not call in every veiled woman they see to avoid stigmatising Muslims.
But a Paris imam said forcing veiled women to present themselves at a police station would be just as uncomfortable.
When France passed the ban on full face veils last year, Muslim leaders voiced concern it could lead to veiled women being unfairly treated by police or singled out for harassment.