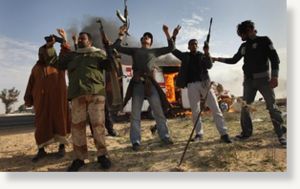 Three marines seized in Libyan port while trying to evacuate Dutch workers
Three Dutch marines are being held in Libya after they were captured by forces loyal to Muammar Gaddafi while trying to rescue Dutch workers.
The marines were surrounded by armed men and captured on Sunday after landing near Sirte in a Lynx helicopter that was on board a navy ship, HMS
Tromp
, which is anchored off the Libyan coast to help evacuations, Dutch defence ministry spokesman Otte Beeksma said.
Dutch officials were in "intensive negotiations" with the Libyan government to secure the marines' release, he said.
"We have also been in contact with the crewmen involved. They are doing well under the circumstances and we hope they will be released as quickly as possible."
Asked if the Dutch government considered the marines hostages, Beeksma said: "They are being held by Libyan authorities."