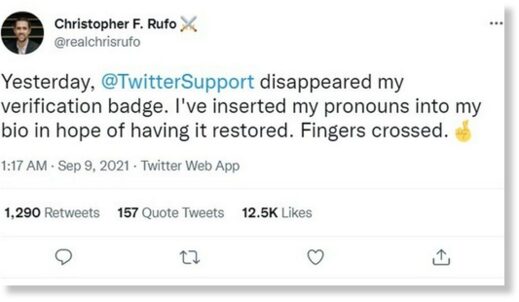 Twitter has stripped the blue checkmark from Christopher Rufo, a prominent critic of the controversial "critical race theory." Supporters see it as the latest Big Tech attack on conservative voices online.
Twitter "disappeared my verification badge," Rufo
told
his 220,000 followers on the platform, joking that he had "inserted my pronouns into my bio in hope of having it restored."
His profile was marked by the blue checkmark until a few days ago.
He also posted several screenshots, including a Twitter notification saying
his account had been verified "incorrectly,"
and an alert from Google, seemingly informing him his Gmail account was being targeted by a "government-backed attack." It remained unclear if the two were connected in any way.

Comment: Translation: we only verify people who agree with us ideologically.


Rufo is a conservative filmmaker and media pundit who has risen in prominence in the past couple of years due to his crusade against critical race theory (CRT). The controversial approach seeks to explain racism in the US as an entrenched trait of American society that needs to be eradicated. Critics believe CRT to be a dangerous political ideology that is being thrust upon Americans by malign actors through events such as corporate diversity and equity training.