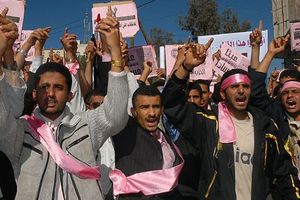 Opposition groups in Yemen say they will go ahead with a scheduled anti-government protest rally despite President Ali Abdullah Saleh's promise to quit in 2013.
The opposition on Wednesday welcomed Saleh's decision to end his 30-year rule, but said that they will not call off a planned rally in the capital on Thursday, dubbed a "day of rage."
"We consider this initiative positive and we await the next concrete steps. As for our plan for a rally tomorrow, the plan stands and it will be organized and orderly," said Mohammed al-Saadi, the undersecretary of the Islamic Islah party, Reuters reported.
"This is a peaceful struggle through which the people can make their voices heard and express their aspirations," he emphasized.
Massive anti-government demonstrations broke out in Yemen after the president proposed a constitutional amendment in January that could make Saleh the president of Yemen for life.