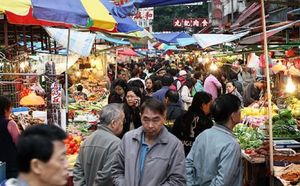 The prices of some common foods such as rice and beef have surged by over 100 per cent across Hong Kong since 2007 - far outpacing the 18-per-cent growth in income of public housing residents in that period - a Labour Party survey has found.
The party said on Monday that its survey compared prices and income from 2007 to last month.
It found that one of the city's poorest areas - Tin Shui Wai - has the most expensive food, with pork and beef prices more than 50 per cent dearer than in other districts.
Tam Chun-yin, the party's community officer, called for the government to introduce a negative income tax to subsidise people earning below a certain amount, to help them survive amid high inflation.