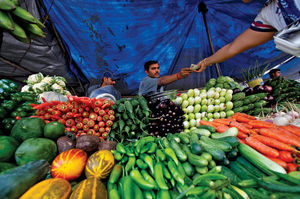 Rising for the fourth consecutive month, retail inflation remained in double digits at 10.79 per cent in January, driven by higher prices of vegetables, edible oil, cereals and protein-based items.
The country's retail inflation is the highest among the BRICS group of emerging economies - Brazil, Russia, China, and South Africa.
Analysts do not see prices of food items coming down anytime soon and have blamed supply side constraints for a consistently high number. Nitesh Ranjan, Economist, Union Bank of India expressed disappointment at the high CPI number.
"We have seen that food inflation has remained high even in the WPI. I do not expect pressures from the food side to ease anytime soon, so expect the CPI to remain high for some more time," Ranjan said.