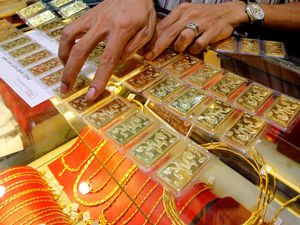 India, China may pay in bullion for Iran oil; Dollar under attack
Gold prices are currently trending around the $1,730 per ounce mark, within touching distance of their 60-day high of $1,747/oz, and up 10 per cent in the first 30 days of 2012.
Fuelling the bullion's newfound drive are rumours that India and China, one of the world's largest oil consumers, are secretly mulling paying in gold for Iranian oil, and bypassing a European Union (EU) oil embargo on Iran, effective from July 1, 2012.
The EU voted last Monday to ban oil imports from Iran. The move came after a defiant Iran announced earlier in January that it had launched a nuclear enrichment programme at a well-protected underground facility near the city of Qom.
Western nations suspect Iran, which is already under numerous international sanctions, of pursuing a secret nuclear weapons programme but Tehran insists it needs nuclear power solely for civilian purposes.
Nevertheless, the new EU sanctions are being seen as a way for the Western world to bring Iran to the negotiations table, but any move by China and India, which together purchase more than one-third of Iran's oil, to bypass the sanctions will significantly reduce the EU's negotiating prowess.