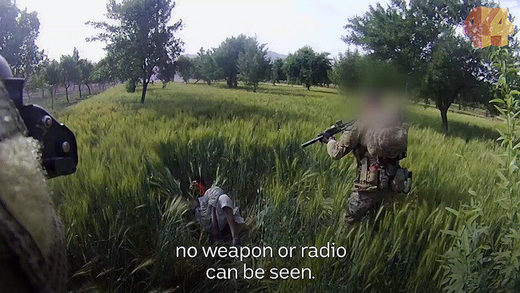 The graphic footage, filmed by body cameras worn by the elite troops and broadcast on national television, must lead to the soldiers being tried for murder.
Australians always look forward to celebrating Anzac Day, but this year it will be different because a pall of shame has fallen over our armed forces thanks to a jaw-dropping TV expose
aired
this week that showed
elite Aussie soldiers murdering Afghan civilians in cold blood when they were supposed to be protecting them from the Taliban
.
While
a four-year inquiry into the behavior of its soldiers in Afghanistan, by the Inspector General of the Australian Defence Force, is still to deliver on its investigation
, the chances of alleged war crimes being swept under the rug thanks to
lying soldiers
misguidedly protecting their comrades, misinformation from witnesses, or from
a political cover-up
, have just been blown out of the water.
Thanks to whistleblower Braden Chapman, a former army intelligence officer who witnessed the atrocities first hand in 2012
, no one can ignore the reality of what happened as the Aussie Special Air Services Regiment (SAS) stormed the dusty villages of Afghanistan in search of those it considered legitimate targets.