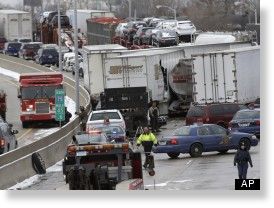 Blinding snow squalls, high winds and a slick highway led to a mile-long series of crashes in Detroit that left at least three people dead, including two children, and 20 more injured.
Michigan State Police Lt. Michael Shaw said visibility was extremely poor when the mass of crashes happened on Interstate 75 on the southwest side of the city. The injured, also including children, have been taken to hospitals, Shaw said.
SUVs with smashed front ends and cars with doors hanging open sat scattered across the debris-littered highway, some crunched against jackknifed tractor-trailers and tankers. Rescue crews went vehicle to vehicle in the search for survivors and to provide aid.