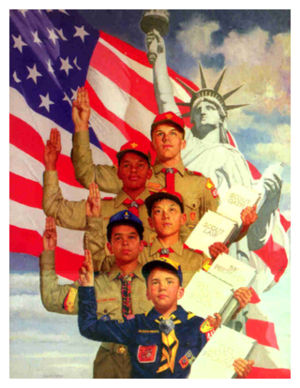 The bosses of the Boy Scouts of America surprised everyone this week by postponing their decision on whether to allow gay leaders and gay Scouts to join their ranks.
If the BSA's long-standing ban on gays is lifted by national officials in May, the choice to admit gays may be left to local Boy Scout chapters - as it should be.
Churches and civic groups that sponsor Boy Scout troops wouldn't be forced by the national organization to admit gays. And parents can choose whether they want their child to be in a troop led by a gay man.
If you're asking me if I'd put my child in a Boy Scout troop with a leader who is a known homosexual, I would answer on the side of caution and say "No." But despite what some of my conservative friends think, allowing gays in the Boy Scouts will not be an open invitation to pedophiles to begin preying on children.
Being gay doesn't mean you are a pedophile. Homosexuality and pedophilia are two completely different issues, and studies show that a child is no more at risk of being molested by a gay or bisexual man than a heterosexual one.
As someone who was sexually molested by a camp counselor when I was 8, I know more than I care to about pedophilia and the long-lasting harm it does to children. You can read about my experience and what I learned from it in
Twice Adopted,
my 2004 book.