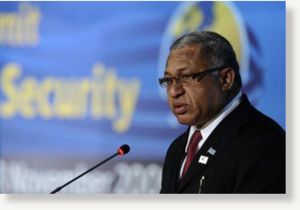 Fiji will drop Queen Elizabeth II from its currency and replace her with local plants and animals, the South Pacific nation's military ruler Voreqe Bainimarama has announced.
Bainimarama, who seized power in a bloodless coup in 2006, said Fiji's cabinet had accepted his recommendations for new designs on the country's 10 coin and note denominations, none of which featured the Queen.
"Important and iconic flora and fauna of Fiji has been selected to replace Her Majesty Queen Elizabeth II?s portrait," he said in a statement released Tuesday.
He said the new coins would be introduced in June next year.
Bainimarama, who holds the titles of Prime Minister and Finance Minister among a clutch of other portfolios, gave no reason for the change.
Britain supported the Commonwealth's decision to suspend Fiji in 2009 after Bainimarama's government broke a promise to restore democracy following the coup.