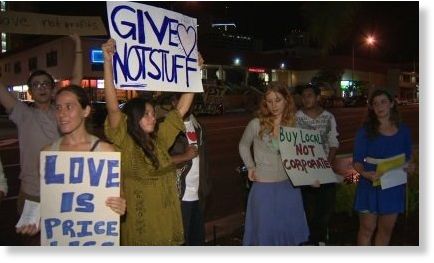 The Occupy Wall Street movement is taking its anti-corporate directly to Black Friday shoppers.
Ten Occupy Oklahoma City protesters were arrested Friday morning after a protest at a Walmart store in Del City, Okla.,
The Oklahoman
reported.
Del City police Capt. Jody Suit told the newspaper that officers working off-duty security jobs at the store called for assistance about 2 a.m. because the protesters were causing disturbances in the back of the store.
One of those arrested, Mark Faulk, 55, of Oklahoma City told the newspaper that he was filming the group's "mike check" - in which one member of the group shouts something and then the others in the group repeat what the speaker said - when "Del City police ran and started tackling people from behind."
Police Lt. Steve Robinson told The Associated Press that no excessive force was used.