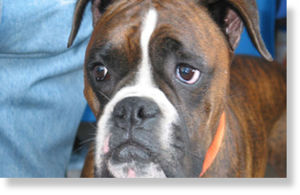 A family in San Mateo, California
is expressing outrage
that police shot and killed their two dogs after they escaped and started barking at children in a park.
Carla Torres, 38, says her two boxers, a female named Bella and a male named Jordan, may have been loose and loud at Laurie Meadows Park, having escaped out a side gate at her home, but that there was no reason for officers to shoot them.
Police Shot Both Dogs
From
The San Francisco Chronicle
:
The incident happened on Monday, when a "frantic" citizen called 911, reporting that "two vicious boxer-type dogs" were at the park growling at people, including a group of small children practicing soccer, said police Sgt. Dave Norris.
Officers arrived and saw that the dogs were "behaving in an increasingly threatening manner, creating a clearly dangerous environment toward the officers and others in the park," Norris said.
As other officers cleared people from the park, an officer tried to use a Taser shock weapon on one of the dogs, but it didn't stop the dog.