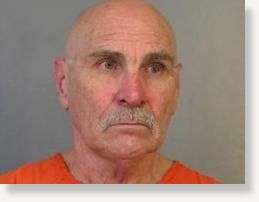 A man suspected of leaving a pipe bomb and two propane tanks at a Denver-area shopping mall has been arrested 30 miles northwest in Boulder, authorities said Tuesday.
Earl Albert Moore, 65, was captured Tuesday at a grocery store, said Boulder Police spokeswoman Kim Kobel.
Authorities have been searching for Moore since the explosives were discovered April 20 at the Southwest Plaza Mall in the south Denver suburbs. The bomb and tanks were found after a fire, but they didn't detonate. No injuries were reported.
The fire occurred on the 12th anniversary of the shootings at Columbine High School, which is about two miles from the mall. Authorities also noted that the times of the mall fire and the Columbine shootings were similar, as was the use of a pipe bomb and propane tanks, which were used during the attack at the school in 1999 that killed 12 students and a teacher.