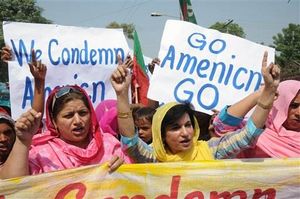 Islamabad - U.S. accusations that Pakistan is supporting Afghan insurgents have triggered a nationalist backlash and
whipped up media fears
of an American invasion, drowning out any discussion over the army's long use of jihadi groups as deadly proxies in the region.
The reaction shows the problem facing the United States as it presses Pakistan for action: Strong statements in Washington provoke a negative public response that makes it more difficult for the army to act against the militants - even if it decided it was in the country's interest to do so.
Pakistan's mostly conservative populace is deeply suspicious of U.S. intentions a decade after Washington forged an alliance with Islamabad. Many people here believe the U.S. wants to break up Pakistan and take its arsenal of nuclear weapons, and America is very unpopular throughout the country.
By contrast, Pakistanis lack unity against Islamic militants.
Politicians and media commentators
are often ambiguous in their criticism of the Pakistani Taliban, despite its carrying out near weekly bombings in Pakistan over the past four years.
One small private television channel has aired an advertisement that features images of Adm. Mike Mullen, America's top military officer, and Defense Secretary Leon Panetta along with scenes of the Pakistani army fighting and raising the country's flag.