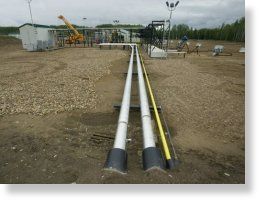 Dozens were arrested at the White House Saturday as protesters began a two-week sit-in expected to draw over 2,000 opponents of a proposed pipeline from Canada to the US Gulf Coast.
"President (Barack) Obama can stop this climate-killing disaster with the stroke of a pen," said Bill McKibben, spokesman for Tar Sands Action, the environmental group that organized the protest. Tar Sands said on its website that more than 70 people were arrested Saturday.
"This is the most important environmental test that President Obama has faced. He has to decide whether or not to grant permission for this giant pipeline," said McKibben.
A total of 2,200 people from all 50 states are expected to take part in the event, which is designed to pressure Obama to deny a permit for the $13 billion Keystone XL pipeline project due to stretch across 1,700 miles (2,700 kilometers).