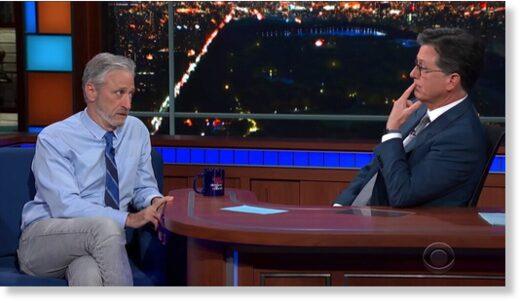 For the past year, liberals
unleashed on the nation
an avalanche of ideological nonsense, coupled with brutal pressure to conform. Those who bucked the party line found themselves canceled and unpersoned and had their opinions subjected to mockery and claims of delusion and "anti-science" prejudices.
Until now. Because the tide is turning. And sometimes the break from the party line comes from surprising places.
Late-night comics are usually reliable parroters of the message of the day.
So it says something that last week, Bill Maher launched an impassioned critique of "woke" culture, while this week, Jon Stewart went on Stephen Colbert's show to say in no uncertain terms that it looks like the Wuhan coronavirus came from ... the Wuhan lab.
Using a term from Harvard psychologist Steven Pinker, Maher accused liberals of "progressophobia" — "a brain disorder that strikes liberals and makes them incapable of recognizing progress."
That is, they're unwilling to admit that things
have gotten better
.
To hear them talk about race, you'd think we were still in the era of Selma and Bull Connor.
(My dad marched with Freedom Riders and at Selma; trust me, things have changed.)
To hear them talk about women's rights, you'd think it was still 1958.
And gay activists, despite "Pride Month" being celebrated by pretty much every corporation, are still somehow stuck in the pre-Stonewall era.
Maher's right.