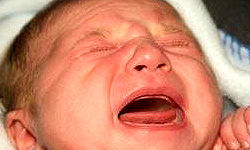 A newly released study revealed that every newly-born baby in the US owes more than $13,000 when it comes to state debt.
According to State Budget Solutions, a nonpartisan group pushing for state budget reform, "every American owes $13,425 in state debt on average."
For private sector workers who are shouldering much of the tax burden, the amount of debt adds up to well over $37,000 per worker, the study released on Tuesday said according to Huffington Post.
In a relevant study released in August, the SBS released another report showing that all together, state governments are facing debts of more than $4.6 trillion.
The state with the highest total debt is California, which is $617 billion in the red. New York is second with just more than $300 billion, followed by Texas, Illinois and New Jersey. Vermont has the least amount of debt among the 50 states, with only $5.8 billion in state debt, according to the report.
On a per capita basis, the states with the highest debt load are Hawaii, New Jersey and Alaska. Nebraska has the lowest total debt per capita at just $4,249 for each resident.
Over the last several years, the recession hit states and cities hard, causing revenues from income, property and sales taxes to fall off significantly. To shore up their budgets, many states have slashed work forces and payroll, made deep cuts into services, and have had to hunt for new revenue.
The accrued debts account for state spending on everything from roads, schools, state employee salaries, and even a pork-barrel project or two.