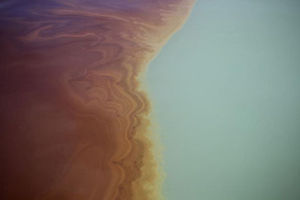 Non-renewable energy continues to violate Earth and human rights everywhere it's drilled
Although cover-ups of the causes of the 2010 Gulf of Mexico "spill" and the recent Brazil spill are similar, unlike U.S. government treatment of the companies involved in the nation's largest eco-disaster that began with the April 20 deep sea oil rig explosion,
Brazil has banned California-based Chevron
from the nation and jail terms for officials are expected due to Big Energy's involvement with the oil spill that
leaked some 2,400 barrels of oil into the sea
off Rio de Janeiro on Nov. 8.
"The company's treatment of the regulatory agency and the Brazilian government was unacceptable," director of the ANP Magda Chambriard told
Bloomberg
.
"We had to go aboard the platform to search for the original images even after the company was notified to provide us with the video."