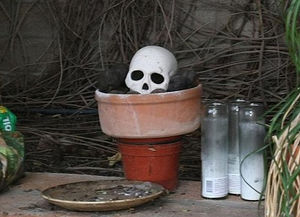 FBI investigators delving into the warped mind of Tucson massacre suspect Jared Loughner are exploring whether he was influenced by the occult and a Right-wing conspiracy theorist.
In messages left on the internet before the shooting Loughner, 22, revealed himself to be a social outcast with paranoid, nihilistic beliefs and a fixation with grammar.
At a public meeting with Congresswoman Gabrielle Giffords three years ago he asked: "What is government if it doesn't exist?"
It left the politician baffled.
According to the Southern Poverty Law Centre, a US civil rights group, Loughner's language and beliefs appeared to resemble those of David Wynn Miller, a Milwaukee-based activist who believes that the US government uses grammar to control people's minds.
Miller, 62, a retired welder, has described himself as a plenipotentiary judge, ambassador, banker, genius and King of Hawaii, and invented his own form of grammar called "truth language", that is said to set people free of the government.
He said he was appalled by the shootings, but agreed with Loughner's pre-shooting internet statement that "the government is implying mind control and brainwash on the people by controlling grammar". Miller told the
Milwaukee Journal
that Loughner could have visited his website but he didn't know him and he was "obviously disturbed".