Archbishop of Philadelphia acts after grand jury named dozens of clergymen accused of paedophilia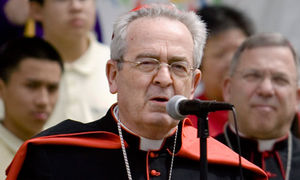 The Philadelphia archdiocese has suspended 21 Roman Catholic priests who were named as suspected child abusers in a scathing grand jury report last month.
Cardinal Justin Rigali, the archbishop of Philadelphia, said the priests had been removed from ministry while their cases were reviewed. The names of the priests were not being released, a spokesman for the archdiocese said.
"These have been difficult weeks since the release of the grand jury report, difficult most of all for victims of sexual abuse but also for all Catholics and for everyone in our community," Rigali said.
The two-year grand jury investigation into abuse in the archdiocese of Philadelphia resulted in charges against two priests, a former priest and a Catholic schoolteacher who are accused of raping boys. A former high-ranking church official was accused of transferring problem priests to new parishes without revealing they had been the subject of sex abuse complaints.