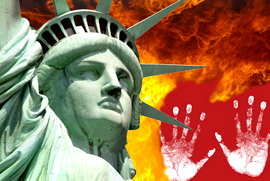 I wrote an
article
called
5 Places Not To Be When The Dollar Collapses
. In it I wrote that societies that benefited the most from the dollar would be the worst places to be when it fell apart. While the dollar has not even collapsed yet, the strain in these areas is becoming more apparent. England is number 3 on the list has had
4 days of violent riots
as people start to lose it. Israel is number 1 on that list has had
massive protests
. There is revolution in the
air all over the world
except in the US.
America is still in deep denial which is still the first stage of the Awakening
. This denial will be wiped away when the dollar collapses. For now the economy is still functioning with food and fuel available. Americans still have the illusion of wealth and normalcy. They still are stuck in the false left right paradigm and think some other sock puppet will turn things around.
When the dollar collapses, all American illusions will collapse with it
. Deep denial will turn into deep anger. The violence I expect in the other 3 areas on the list and all urban areas in the US, will make all other global riots pale in comparison. America is deeply infused with arrogance, denial, narcissism, drugs and violence. There is no other society that I know of that has the degree of intensity and combination of these factors.