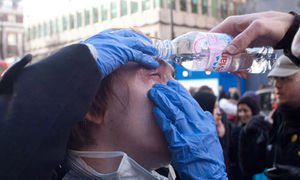 UK Uncut activists hospitalised after targeting Boots in Oxford Street as part of latest day of action
Tax avoidance protesters needed hospital treatment today after police used CS spray to break up a demonstration on Oxford Street in central London.
Hundreds of people staged peaceful sit-ins at high street stores around the country as part of the latest UK Uncut day of action, designed to highlight companies it says are avoiding millions of pounds in tax.
In London protesters had successfully closed down Boots in Oxford Street - one of the companies campaigners accuse of tax avoidance - when police tried to arrest a woman for pushing a leaflet through the store's doors. Other demonstrators tried to stop the arrest and at least one police officer used CS spray, which hospitalised three people.
Jed Weightman, one of those who went to hospital, said protesters had joined hands to try and prevent the arrest.