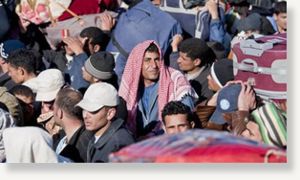 The United Nations refugee agency says over the past 10 days, more than 140,000 people have fled to Egypt and Tunisia from Libya. The UNHCR says tens of thousands of people are stuck at the borders and in urgent need of help.
The U.N. refugee agency says the situation at the Libya-Tunisia border is chaotic. It says 14,000 people crossed the border Monday, the highest number to date.
The agency says it is crucial to move tens of thousands of people away from the overcrowded border to avoid a humanitarian crisis. But transportation is scarce.
UNHCR spokeswoman Melissa Fleming says the agency has erected 1,500 tents, which can shelter 12,000 people. And she says two airlifts planned for Thursday will deliver tents and supplies for up to 10,000 people.
"We have now visited the border entry point to Tunisia. What is unfortunate is that thousands of people are waiting on the Libyan side of the border to enter. Some for as long as three days. They are obliged to spend the night outside in the bitter cold without shelter. We are very concerned that a large number of sub-Saharan Africans are not being allowed into Tunisia at this point. We are in negotiation with self-appointed volunteers from the local community who are guarding the border," she said.