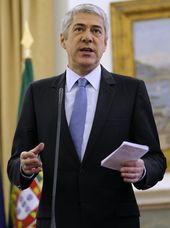 Portugal insists that it does not need an international bailout to solve its debt problems. It faces a bond auction Wednesday that could reveal the price of going it alone - and perhaps even add to the European financial crisis.
Investors have identified the debt-burdened country as the potential next victim of the crisis and have pushed its borrowing costs to barely sustainable levels by demanding higher premiums to lend it money.
Market tensions were eased slightly Tuesday after Japan, taking advantage of high interest rates and echoing a similar pledge by China, said it would help finance European bailout efforts.
Portuguese Prime Minister Jose Socrates sought to soothe frayed nerves with evidence that his government, which has introduced pay cuts and tax hikes, is reducing its budget deficit. Preliminary data show last year's will be below the government target.
"The government is doing its job and is doing it well," Socrates told a news conference. "I'd like to stress again that ... Portugal won't request any financial help for the simple reason that it doesn't need it."
But reports have said Germany and France, Europe's two main financiers, are pushing Lisbon to accept assistance to keep the debt crisis from spreading to bigger countries that would be much costlier to rescue.