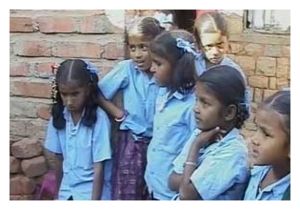 Mumbai -In a grim reminder of the continuing misery of the poor in India, a report by a Supreme Court panel has revealed that food worth thousands of
crores
meant for underprivileged children in Maharashtra has been siphoned off by private companies. Instead, the children, who were entitled to the benefit under the anganwadi scheme, were fed stale and low-quality food.
The shocking revelations are part of a report submitted by the Supreme Court Commissioner who looked into widespread irregularities in the Maharashtra Anganwadi Yojana. As per the findings, tenders were intentionally awarded to three women's associations that were meant to supply food for children under the anganwadi scheme. However, the associations formed their own separate committees, which in turn delegated the work - supplying food and other nutritional supplements - to five private firms.
These five companies, the report says, allegedly made massive profits by providing sub-standard food to poor children.
The latest report is a further indicator of the deteriorating social index in Maharashtra - the state already suffers from the ignominy of having one of the highest number of deaths from malnutrition in the country. The alleged scam should also come as a worry for the Congress-led government in Maharashtra as well as at the Centre as the anganwadi project is part of the larger Integrated Child Development Services (ICDS) scheme which is centrally-sponsored with the state governments tasked to implement it.