"I freed a thousand slaves - I could have freed a thousand more if only they knew they were slaves." - Harriet Tubman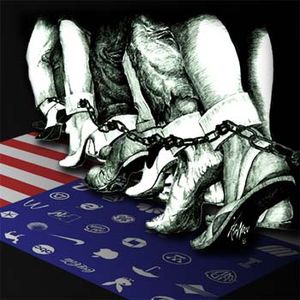 Are we hamsters running endlessly on a spinning wheel, oblivious to the fact that we are substantively going nowhere but backwards? Or, are we reasoning, critically thinking human beings who have enough sense to comprehend the enormous difference between being on a perpetually spinning wheel, and making real systemic change that serves the needs and aspirations of ordinary people? The time is here and now for everyday, ordinary Black, White, Brown, Red, and Yellow people to address and honestly answer this question. We must take responsibility for our collective destinies.
The political system of the United States really is one wherein the following words, attributed to Charlie King, so thoroughly apply: "America is a melting pot, the people at the bottom get burned while all the scum floats to the top." The obvious question is why? Why is this allowed to continue? The answer is not complicated. It is the denial, self delusion, lethargy, and hypocrisy on the part of far too many people in this nation -- stoked and perpetuated -- by the corporate-owned Democratic and Republican parties, the corporate-stream 'news' media, and their concomitant systemic 'educational' institutions. The scum does not float to the top by osmosis. It is quite deliberate.