A crush of fans circled a flower-graced mosaic in Central Park's Strawberry Fields and sang lyrics from "Imagine" on Saturday to honor Beatles legend John Lennon on his 70th birthday.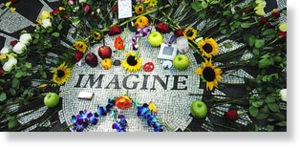 On the day when the Liverpool Lad would have become a septuagenarian, thousands of fans from around the world gathered to remember the floppy-haired British superstar who just wanted to give peace a chance.
"His music speaks to people of any nation, any age, and that's why I think so many young people now who never would have known him still find him so appealing," said Karen Kriendler Nelson, 69, who lives nearby and often visits the mosaic that spells out Lennon's song "Imagine."
She and her Maltese dog, Pino, joined a group of fans who sang the lines, "Imagine there's no countries/ It isn't hard to do/ Nothing to kill or die for/ And no religion too/ Imagine all the people/ Living life in peace ..."
Joan Acarin and his wife, Laia, visited the memorial from Spain.
"The values Lennon defended are still alive," said Joan Acarin, a 41-year-old attorney from Barcelona. "It's the idea that we do not have to fight wars."