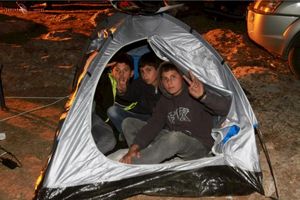 Having regularly documented the horrifying racism and violent fantasies frequently expressed by
Israelis on Facebook
or
Instagram
, I thought I had seen everything.
But this may be the worst yet. On Wednesday, the picture above of three Palestinian boys in a tent was
posted
on a popular Facebook page titled in Hebrew "
We are all in favor of death to terrorists
." Under the picture is the following caption:
Arab boys in the illegal Arab outpost established near Maale Adumim. What should the Israeli army do to them?
This is an apparent reference to
the peaceful "Bab al-Shams" encampment
established by Palestinians near Jerusalem to protest Israel's plans to seize more land for settlements. The protest was timed to coincide with the visit of US President
Barack Obama
.
"Run the tent over with a truck/Merkava tank/a bus/ whatever it takes to crush and kill these children," suggested Facebook user Lidor Swisa.