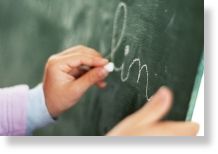 Starting this fall, schools in Indiana won't have to teach kids how to write in cursive.
Until now, kids started learning cursive handwriting in 2nd grade; but state education officials say computers and web books have made cursive a relic of the past; so it won't be required any more.
Local school districts can still teach it if they want; but the state says it's more important to teach kids good keyboard skills.