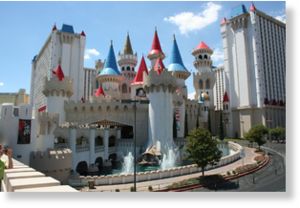 A man shot and fatally wounded a woman, then killed himself Friday night at the Excalibur hotel-casino on the Las Vegas Strip, sending frightened patrons fleeing.
Las Vegas Police Lt. Ray Steiber said the shootings happened at about 8:30 p.m. near the high-rise hotel's front entrance.
Steiber said the man shot the woman, who was a vendor at the hotel's concierge desk, and then turned the gun on himself. The man was found dead at the scene.
The woman was taken to a local hospital, where she was pronounced dead.
Neither the gunman nor the victim was identified. However, Steiber said the woman worked as the concierge desk, where tourists can get show tickets and restaurant reservations. He said the relationship between the shooter and the victim wasn't immediately clear.