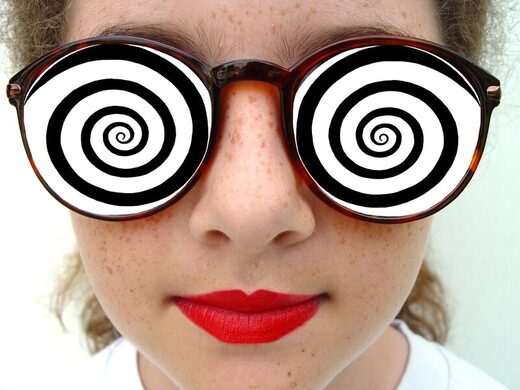 Operation Coronavirus has shown how mass hypnosis can be inculcated into entire populations, around the world. We are now 20 months into "2 weeks to flatten the curve" and there are still many people hopelessly lost in the official narrative. The NWO (New World Order) controllers know that narrative is everything. T
o control the information and to control the way people interpret that information is the absolute power to control perception.
Why do you think
Bond villain
and WEF head
Klaus Schwab
just held another WEF (World Economic Forum) event on introducing The Great Narrative? A really effective narrative has a hypnotizing effect. This article will take a deeper look at how the official COVID narrative has been able to induce people into a state of fear, disempowerment, compliance, obedience and mass hypnosis - and how it continues to do so - in a manner identical to the brainwashing propaganda of a cult.
Still Buying the Official Narrative ...
Look around you. Do you see many people, including family, friends and colleagues, who are still buying into the official narrative - even at this stage in the game when there has been so much information to destroy it? Even when
Big Pharma have admitted the vaccine was never designed to stop transmission?
Even when recent
statistics from VAERS
(as of November 12th 2021) show 875,653 adverse events following COVID vaccines and 18,461 COVID vaccine deaths? We need to recall that the 2010 Harvard Pilgrim Health
Care study concluded that under 1% of vaccine adverse events or side effects are ever reported; going by that, that would mean 87 million COVID vaccine injuries and 1.8 million COVID vaccine deaths in the USA - a nation of 330 million (over 1/4 of the country injured). Mass murder is certainly no exaggeration.