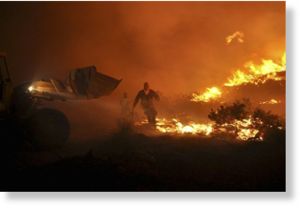 In response to Greece's financial crisis, villagers on the eastern island of Chios carried on with what their ancestors had been profitably doing for centuries: patiently carving lines on mastic trees.
But much of the island's trademark mastic gum industry went up in scented smoke over the past week when a wildfire ravaged the world's only mastic tree plantations during the heart of the harvest season.
As firefighters on Friday put out the last flare-ups from the six-day blaze, farmers said
up to a quarter of the island's mastic groves have been wiped out
.
In cash terms, producers stand to lose up to €3 million ($3.75 million) a year, because after replanting, it takes up to a decade before producers can start tapping the trees for their aromatic gum.
"Imagine that a farmer who produces mastic will now lose this economic benefit ... for the next 8 years," said Giannis Stoupakis, who recently opened a local factory to produce export-quality, mastic-flavored alcoholic drinks.
With its distinctive flavor, the gum-like resin - believed to have served in ancient times as an early form of chewing gum that was prized for its medicinal properties - is only produced by trees in certain parts of southern Chios that favor the trees' slow growth. More than half the crop is exported for use in confectionery, cooking and cosmetics.